The second Pro-Life Car Rally has taken place in Moscow and other Russian towns
---
A car rally against abortion, organized by Orthodox Center for Pro-Life Education "Zhizn" (Life) and Charity Fund for Protection of Family, Motherhood and Childhood, took place on November 6th, 2010 in Moscow and two Russian towns — Orel and Ramenskoye.
The participants of the Moscow car rally gathered at the Church of the Annunciation in Petrovsky Park (where Center "Zhizn" is situated) and received there the rules of conduct and a set of rally symbols to attach to the cars — flags, car stickers, and balloons with traditional Russian pro-life slogans: "For life!", "STOP to abortion!", "Russia without abortions!", "Abortions kill geniuses," "Give life!" "Save your child!", "Wait until he smiles," etc. Besides, many participants wore special T-shirts with the words: "Children are not garbage!"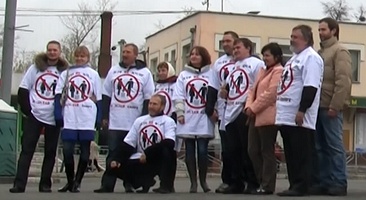 This was the second Russian car rally against abortion (the first took place five months ago — on May 30th, 2010, just before International Children's Day) and yet has been an important step in the pursuit of the protection of children's lives. We have, hopefully, pursuaded our followers to be more proactive in organizing pro-life rallies in all Russian regions.
As it is known, a good deed always faces difficulties. This rally was no exception, since the Moscow road police tried to stop our "cortege" four times. Without success. Each time we convinced the policemen that our action was perfectly peaceful and absolutely legal.
In the end, the pro-life motorcade has successfully passed through the city fully in accordance with the route we planned. In the same way we will do our best to make changes in the laws and to stop the infanticide in our dying out country and also in all countries of the world.
We would like to thank heartily all participants of our rally. With our joint efforts, once again we have said in a loud voice: STOP to abortion!
Moscow
Orel
Ramenskoye